Elizabeth Manju Campaign at Lawson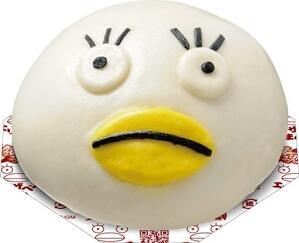 Lawson, the second largest convenience store franchise in Japan, is starting a Gintama Twitter campaign to promote their new and upcoming Elizabeth manju (a kind of bun with usually red bean paste inside).
The campaign involves guessing what flavor is hiding in the Elizabeth manju. Starting on 10/15 until 11/4, hints about the flavor will be given out. Those who follow the official Lawson twitter account (@akiko_lawson) can receive hints, where you can tweet under the #エリザベスまん hashtag (meaning "#elizabethman") to send in your guess. You will have to tweet the answer in Japanese and presumably have to have a Japanese address in the case that you do win.
Their first hint is: "That thing from the Sakata House"! People have already guessed strawberry milk (Gin-san's favorite) and eggs over rice (Kagura's favorite). Could it really be one of these?
Among the people who guess it correctly, 100 of them will win the Elizabeth manju cushion, and 3 will win BD/DVDs of Movie 2 signed by the voice actors!
Winners will receive a direct message from the Lawson account, which means you have to be a follower of the account.
They will ship the prizes in January 2014.